> x. a. li
I am a multi-disciplinary artist and computer scientist residing in Chicago, USA. I use digital media, sound, algorithms, and text to explore how individual personhood interacts with contemporary economic and technological systems, including the juxtaposition of inhabited versus constructed realities.
I am interested in data manipulation as a means of understanding the otherwise unfathomable complexity underlying everyday life. Currently I am working on several projects using generative neural networks to investigate the unintended narratives of human experience emerging from our vast corpus of media.
I am presently an M.S. student in Computer Science at the Georgia Institute of Technology, specializing in machine learning and artificial intelligence. I received my B.A. in Economics from the University of Chicago.
Contact: xa @ this website
in touch (2019)
In Touch streams live footage from randomly chosen CCTV cameras around the world, paired with an experimental composition using samples from audio datasets. Scenes range from workplaces to industrial sites to recreation areas; many include people coming and going, seemingly unaware they are being surveilled or that the footage is publicly available. The aggregated cameras appear unsettling in some combinations, almost meditative in others. This piece is also performed live as part of the audio-visual project Post Consumer Material (more details forthcoming).
Camera streams indexed by Insecam. Audio data from ESC-50 and UrbanSound.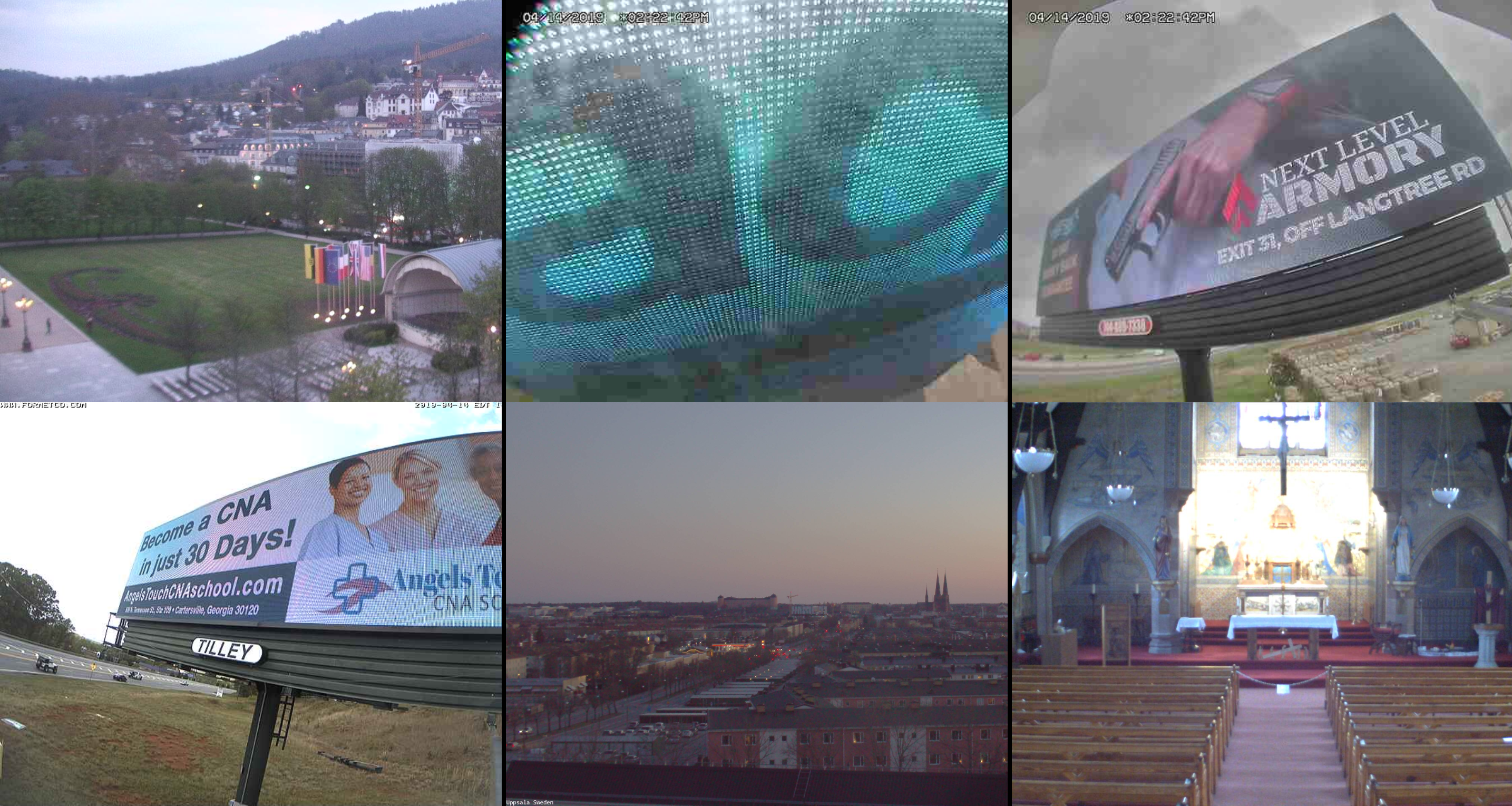 the ease of desire (2018)
Products are marketed as desirable, complete, and self-contained. The extractive processes, labor, and supply chains required to deliver consumer objects are conversely invisible by design. This project renders commercials—particularly those with a personalized, emotional affect, marketing a feeling moreso than the object itself—in video mosaics composed of industrial imagery and confrontational footage.
The sample below uses frames from the documentary "The Biggest Factory in the World" to reproduce a Victoria's Secret commercial.
Click anywhere in the video to play.
eternal face (2018)
Algorithmically synthesized textures from human portraits.
Photos are processed to identify facial feature points and subset the image into divided facial regions — a nose, the corner of an eye, a crinkled lip. Each region is then passed into a patch-based image quilting algorithm, based on Efros & Freeman (2001).
The algorithm builds new images based on visual continuity, attempting to construct an interpretation of the human based on limited information provided.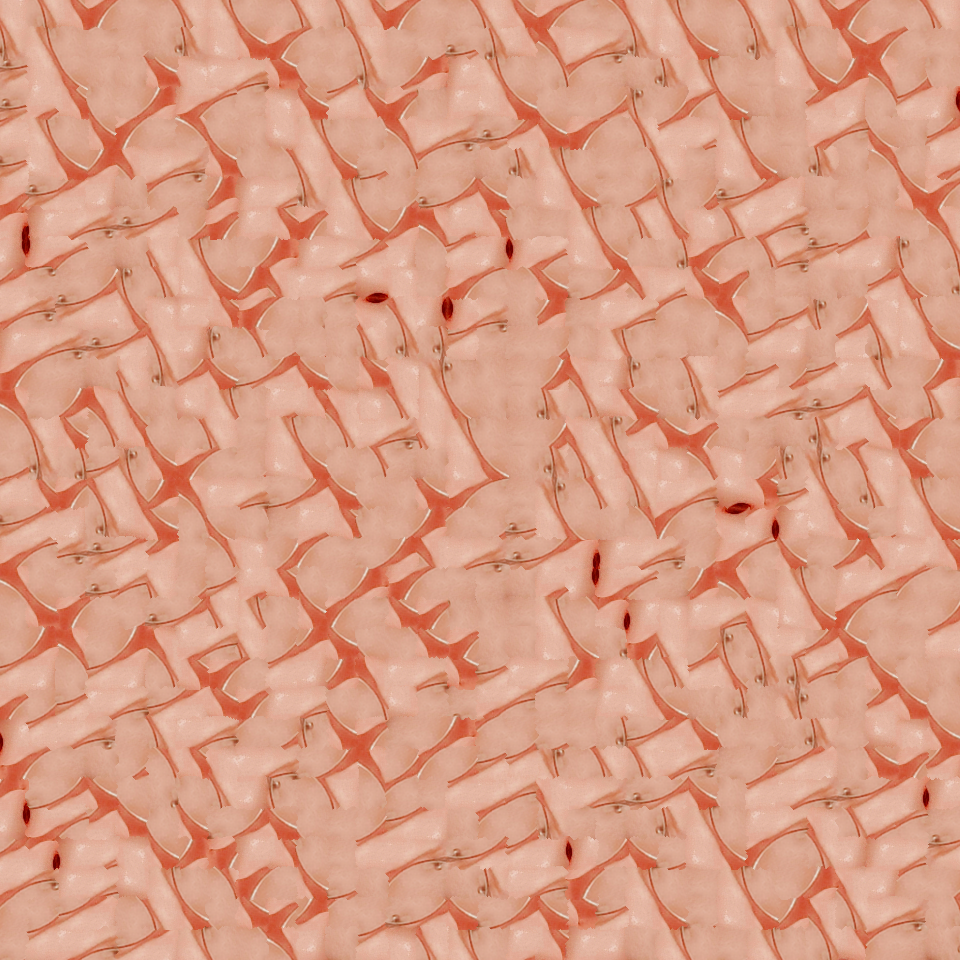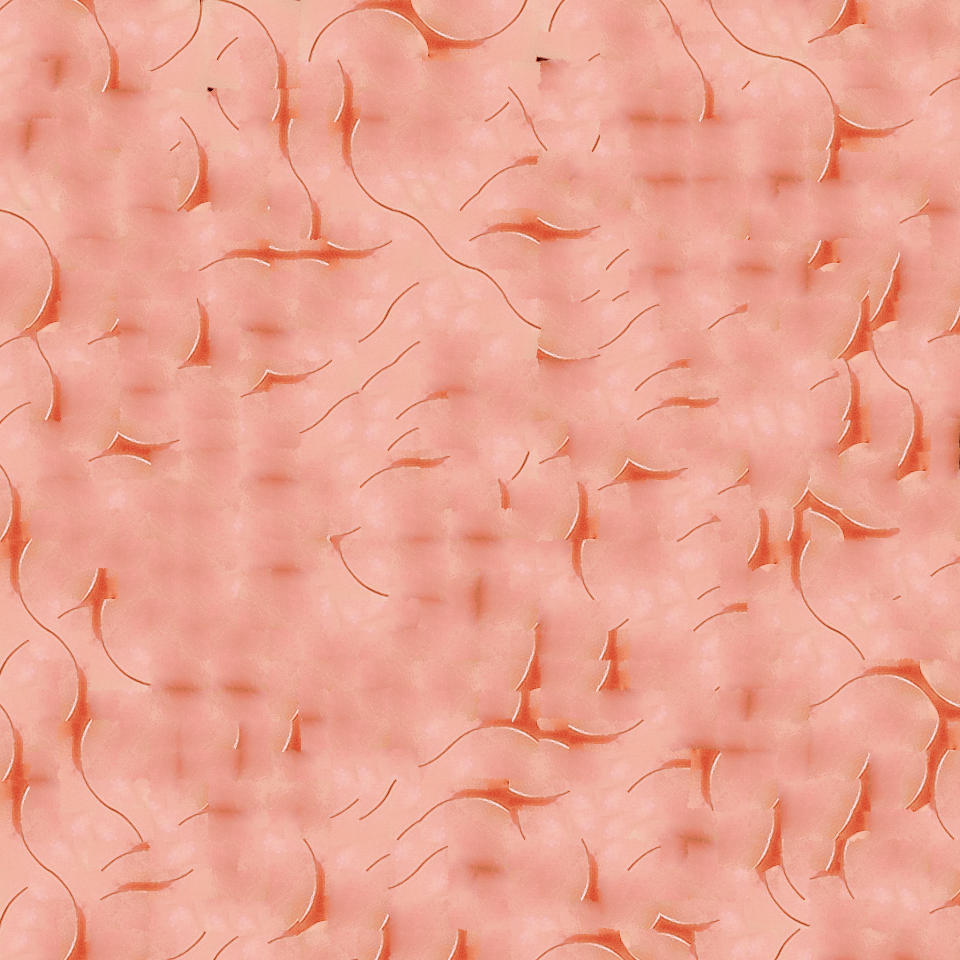 prostrate before a vision of the self (2018)
The average Instagram influencer, infinitely scrolling, with varying aggregation parameters yielding appealing or disturbing composites. Uses simple Markov chains to generate captions.